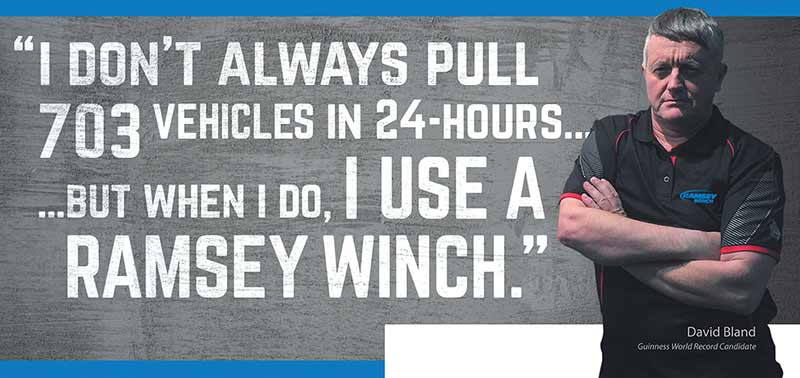 UK-Based FMG and David Bland Engineering put their sights on setting a world record in towing and recovery.
RECORD SETTING FOR A CAUSE!
703 VEHICLES PULLS IN 24-HOURS
ROCK-SOLID PERFORMANCE FROM THE RAMSEY RPH 42,2 (HD-P 10,000 U.S. EQUIVALENT)
RECOVERY CABLE WINCHED IN AND OUT A DISTANCE OF 4.6 MILES
Recently, a towing company out of the United Kingdom tried to do just that by attempting to recover a record number of "broken down" vehicles over the course of 24 hours as a fund raiser for Children In Need.
---
Dave Bland Engineering designed the flatbed carrier which was used by FMG to attempt this world record.
Years ago, Ramsey Winch changed the towing and recovery industry by introducing our hydraulic winch. In this world record attempt, the tow truck was equipped with a Ramsey hydraulic planetary winch – the RPH 42,2 (the equivalnet of the HD-P 10,000) – which was specifically selected for its toughness and reliability.
To qualify for the record attempt, the team of technicians neeeded to properly and fully load and unload a car onto the towing vehicle as many times as possible over 24 straight hours – a total of 703 times. This exceeded their expectations significantly.
During the 24-hour period, the recovery cable was winched in and out a distance of 4.6 miles. This particular winch was designed for increased line speed in vehicle recovery and features easy free-spooling as well as a single lubricant for all temperature ranges. The standard drum holds 115-feet of cable.
Since it's critically important for the winch and cable system used in towing and recovery to be dependable, Ramsey believes that the superior quality and rugged design of its winches can be trusted by customers of all sizes in the towing and recovery industry.
LET'S SET RECORDS TOGETHER – GET MORE INFO ON RAMSEY WINCHES

Ramsey Winches are proven work-horses in EVERY industry. We're breaking records in the Towing & Recovery industry, so you can only imagine what our winches are capable off in Off-road, ATV & Utility capacities. Checkout our current promotions:
Ramsey Winch – Trusted for decades by those who seek out the toughest trails and the most demanding terrain. We make a wide range of winches and accessories designed for efficient self-recovery of off-road or crawl vehicles and ATVs. Trust you and your vehicle to the made-in-America winch known for the highest quality materials and workmanship. The one built for strength and long-lasting dependability – the one and only Ramsey Winch.